Standard countertops 25 ½''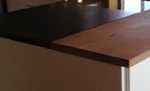 The slate is more and more used in the manufacture of countertops, on the other hand it is not new if it is thought that slate is used for a long time for laboratory countertops. The slate surfaces are impermeable and resistant, easy to clean. It give a cachet to a modern kitchen.                                                                                                                                                                 The standard model is 25 mm (1 ") by 650 mm (25 1/2") deep by 1720mm (67 3/4 ") long, with or without built-in sink.
This concept fits on standard cabinets totalling 66 "in length by 24" deep. This countertop can be completed with a panel of wood or other material to form an island. The finish is polished for easy   maintenance.
A sink made by hand in Slate Panel is offered as an option, also a stainless steel sink is offered as an option.
This standard template is available packaged and delivered to dommicile and it can easily be installed by an experienced handyman.
The surfaces are also sealed prior to delivery.