About Ardobec
Ardobec Slate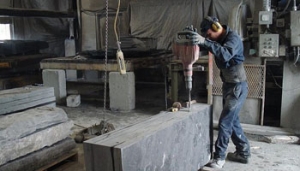 Natural In our quarries, slate is removed directly in its natural state. Slate is made up of rocks and belongs to the shale family, a fine-grained rock that is generally black or iron grey and sometimes green or reddish. This type of slate is characterized by the structure of its parallel layers that are easily cleavalbe. Slate was originally formed by very thin, argillaceous marine sediments which settled deep into the sea and reached significant densities of 5/6000 m. Increased temperatures and pressure transformed the sediments into sedimentary rock, and the movements of the earth's crust transformed it into slate.
Historic Slate has been used for roof tiles since antiquity. This stone can easily be split into smooth and thin tiles. Slate is also used to manufacture objects such as pool tables, sinks, counters, interior and exterior design elements and for low walls. Neglected in Quebec for the past 100 years, slate is now taking on new life.
Easy maintenance No sealing material is required for outdoor use, but may be applied to indoor tiles to protect them against markings and increase their impermeability. Slate can be cleaned using a soapy or plain water solution; it will not be altered by household cleaning solutions. Upon request, we can offer you suggestions of various compatible sealing materials.
Durable Quality Ardobec slate has an impressive resistance to wear and will not crumble. In the Eastern Townships, there are roofs more than 100 years old which remain in good condition. Slate can withstand bad weather, frost and acid rain; it won't fade and is unaltered by the sun and its UV rays. Laboratory test results are available upon request.
Solid Slate is strong and rigid and can be used as structural slabs like steps in a room. The horizontal layering makes for a very strong stone.
Easy to use Slate can be cut easily with a diamond saw and split with a hammer and cutter.
Versatile Slate can be used both indoors and outdoors. Some uses include tiling, masonry, counters, roofs and décor. Its clean and simple colour allows it to blend well with its environment.
Environmentally friendly This natural stone has not endured any chemical or calorific transformation following its extraction. Its Life Cycle Assessment (LCA) makes it a green material as much during transformation, which requires very little energy, as during use. The material is durable and 100% post-consumer recyclable. We estimate that 0.0026 tonnes of CO2eq is consumed during the extraction and transformation of one (1) tonne of slate. For example one (1) tonne of cement consumes about 0.1 tonnes of CO2eq or in other words, 40 times more greenhouse gas than one (1) tonne of slate.
Safe Slate is slip resistant if kept in its natural state.
Heat storage Solid slate is a fabulous heat conductor with highly passive thermal inertia. It gathers heat from the sun which it emits as it gets cooler.
Slate and geology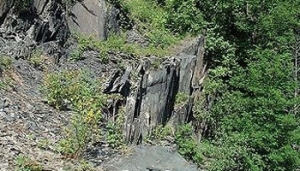 Hundreds of millions of years ago, the Eastern Townships was completely flooded by sea waters. The clay silts that, at the time, slowly settled to the bottom of the sea then became deposits that reached significant densities of 5/6000 m. Slate is the most natural result of the transformation of the clay layers, which accumulated for millennia and through geological pressure and high temperatures became a schist.
The schistosity is caused by slow flow and continuous compression, with certain minerals crystallizing in a particular direction.
Schistosity has a mechanic origin that comes from a primary crushing into parallel sheets and its components stretching in the same direction. This is called long-grain. Fissility and long-grain condition the work of the slate quarry worker. Slate is a metamorphic rock made up of very fine-grained rock.
Our quarry is mined above ground. (In France slate is found underground which complicates the extraction process).
Different colours of slate are formed by a specific abundance of certain minerals
Red: Hematite
Greys: Phengite and carbon
Greens: Chlorite
Black: Graphite
Thanks to these transformations over the years, slate has an exceptional resistance to abrasion and a very low porosity
Burke Slate Quarry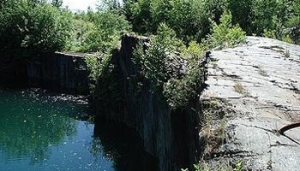 Our slate quarry in Asbestos has been mined since 1850. It was one of the four largest quarries in the heyday of slate. The quarry specialized in the manufacturing of slate boards, slate shingles and slate pool tables. In 1894, 300 men worked for the quarry. Mining stopped in 1896 with the arrival of synthetic materials such as asphalt shingles.
Commitment to our customers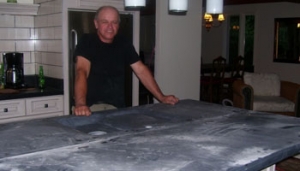 Since 1999, Ardobec has opened a new chapter in the rich history of slate by introducing new possibilities for its use, and helping it withstand the changing fashions of time. The durability, prestige and colour of slate make this natural stone an excellent choice for slate landscape design, slate interior and exterior design, and slate roofing. Slate stands the test of time and adds value to your property.
Our slate sawing plant has state-of-the-art equipment like diamond saws that cut blocks of slate weighing more than ten tonnes, saws that help naturalize surfaces and sizers that produce products of equal thickness. Our slate technicians are masters of the secrets of slate stone and slate cutting methods.
The Ardobec management team believes strongly in the resurgence of slate for outdoor and interior design. We have confidence in the quality of our products, our outstanding customer service, rapidly available supply, and ability to customize orders based on your needs. We look forward to building a strong relationship with our customers and re-establishing a well-deserved name for slate stone.